Ghoul Gallery Catalogue
Ghoul Gallery is a 24 hour round the clock Halloween website, full of Ghoulish Gifts & Frightful Decor!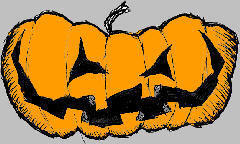 What's New
For Fall 2017, We announced the grand opening of our first ever phyiscal store front on Historic downtown Oregon City's Main Street, the oldest city west of the Mississipi. We've been told that our old building from 1902 is actually haunted. We are also excited to be coordinatiing events with Northwest Ghost Tours of old town Oregon City. More news to follow shortly.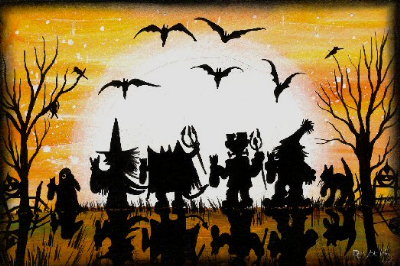 Shipping:

United States &

International
Please be aware that we use PayPal for our shopping cart. Shipping is calculated as a percentage of your purchase. We do not set shipping rates. Those are set by Federal Express ground services and US Postal. Rates drop dramatically when purchases total more than $100. Due to the wide variety of International destinations, PayPal does not calculate or add shipping/handling costs. Those are calculated later and invoiced to you directly. Please read our Shipping Page for more detailed information about shipping.
Party Platters and Chips & Dips

What good is a haunted Halloween buffet table without appropriate salt & pepper shakers? They can be scary, cute or just downright Halloween festive. In any case, they set a festive scene.
Party Platters, Chip & Dips
More Pages

>>

1

2

NEW LISTING 2012

Ghoulish Skull Glass Plate
Price: $28.50


For display or food,
Glass,10" Diameter, white on black.

Limited Quantities.

Item #: MEL-49781-BW

NEW LISTING 2012

Ghoulish Skull Glass Plate
Price: $28.50


For display or food,
Glass,10" Diameter

Limited Quantities.

Item #: MEL-49781-OR

NEW LISTING 2012

Ghoulish Skull Glass Plate
Price: $34.50


For display or food,
Glass,11.5" Square

Limited Quantities.

Item #: MEL-49781-BW

NEW LISTING 2012

Ghoulish Skull Glass Plate
Price: $34.50


For display or food,
Glass,11.5" Square

Limited Quantities.

Item #: MEL-49781-BW





12" Metallic Orange Lacquer Acrylic Charger Plate

Note: Occasionally some chargers have minor surface imperfections, as might be expected with mass-produced acrylic chargers, but those minor imperfections in no way detract from the overall presentation look of the metallic orange look.

Item # 56468

$6.49 each

We also feature a larger discount for Event Planners when ordering 100 or more!






Whether you are setting a dining table with Halloween plates, or just want to spice up the look of a round tray of hors d'ouvres, these chargers will spice up the look of your table. We have orange or black.

12" Black Lacquer Acrylic Charger Plate

Item # 56469

$6.49 each






Bone Appetite Platter

Price: $65.50

By Department 56/Glitterville

Ceramic, 20" x 9.5"

Retired 2007

Item #: 56.29042

Boo Bone Tray

Price: $72.99

By Department 56
Ceramic, 4 Compartments, 17 "

Retired 2004;

Item #: 56.35093

Snake Divided Platter


Price: $49.50

By Department 56
Ceramic, 14 1/2 x 9.5"

Retired 2007

Item #: 56.98603

Bride of Frankenstein Bread Plate

Price: $42.46

By Department 56
Ceramic, 17" x 7.75"

Retired 2008;

Item #: 56.796543

SKULL PLATTER
Ceramic,

14" x 12"

$41.95


SKULL CHIP BOWL
Ceramic,

14" x 12"

$129.95


Spider divided Chip & Dip
Price: $84.99


By Department 56
Ceramic, 14" x 2.5 "

Retired 2007; 3 remain.

Item #: 56.98621

Monster divided Server


Price: $47.99

By Department 56
Ceramic, 11" x 11"

Retired 2008;

Item #: 56.797139

Spider Web Server Plate


Price: $38.99

By Department 56 Ceramic, 11" x 8 "

Retired 2008

Item #: 56.799083





Hearse Cracker Server


Price: $345.00

By Department 56
One of our most unique and sought after collectibles. Ceramic with drawer coffin and 2 spreaders, 17" x 7 "

Retired 2008;

Item #: 56.796527

See more photos below





Bat Chip & Dip

Price: $28.99

By Midwest Ceramic, 16" long

Retired 2011

Item #: MW-282458



Spider & Web Chip & Dip Platter


Price: $29.99

By Amscan
Ceramic, platter is 10" diameter, dip bowl is 5" diameter x 2" tall

Retired 2011

Item #: AMS-468425




All Hallow's Eve Tray


Price: $34.99

By Amscan
Ceramic, 15" x 5 1/2 "; Fun for serving or hanging on the wall for accents. Great as a bread tray or condiment platter.

Retired 2010.

Item #: AMS-449138




Pumpkin Party Platter
or Chip & Dip


Price: $47.99

By Amscan
Ceramic, Platter is 14" dia,; This platter has great coloring. And look 11" x 8 " at the design around the outside, from a flying witch to a haunted house. The tray alone is so ghoulish.

Retired 2010;

Item #: AMS-452377

Ghoulish Halloween
Serving Platter


Price: $35.99

By Amscan
Ceramic, 16" x 11 1/2 ", great as a platter or wall hanging

Retired 2010; 4 remain.

Item #: AMS-443370




Mummy Serving Platter
(with raised eyeball for picks)


Price: $27.50

By Amscan
Ceramic, Look closely and you'll see the bandage lines for the mummy. The raised eye is outlandishly inventive and is used for toothpicks. This condiment tray is sure to be a hit at your party. 11 1/2" x 8 1/2 "

Retired 2011

Item #: AMSA-468422





Nested Trays of Pumpkin & Spider Web
Price: $24.99/set


By Amscan
Ceramic, Spider Tray: 9" x 6"
Pumpkin Tray: 6.75x4.75", See additional photo below

Retired 2011; 2 remain.

Item #: AMS-468418






Witches Hat Chip & Dip Tray and Bowl
Price: $59.50


By Amscan
Large, heavy Ceramic, 14" x 6" tall; hat comes off to reveal bowl. Great Halloween colors. Destined to be a collectible for years to come.

Retired 2011;

Item #: AMS-468428
Party Platters, Chip & Dips
More Pages
>>
1
2
---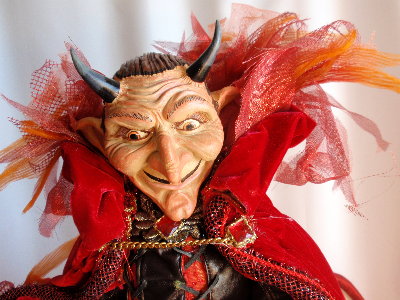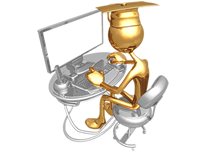 GHOUL GALLERY PRODUCT SEARCH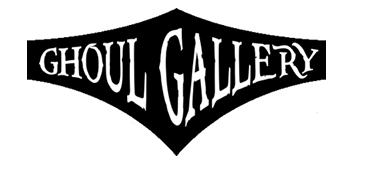 Ghoulish Gifts & Frightful Decor