Ghoul Gallery website
Ghoul Gallery is a 24 hour round the clock Halloween website, full of Ghoulish Gifts & Frightful Decor!.
Important Shipping Information
BEFORE ORDERING...
Before you place any order with us, be sure you have read and are familiar with our online store policies. For your protection as well as ours, we strictly adhere to these policies. If you have any questions please contact us. If any of our policies cause you to hesitate, it is preferred that you NOT order, or contact us prior to ordering.
We complete orders with what we have in stock at the time of order. Much of what we carry is 10 or more years older and retired by the manufacturing company. We do our best to update our site as quickly as possible, but in the months leading up to Halloween, orders can come in quickly and retired items can sell out quickly. We reserve the right to complete orders with what remains of our inventory, unless you clearly state in advance that you want the order completed in full or not at all.
We do not refund any collectibles after the holiday has passed. You have 5 days after receipt of a shipment to file a claim for whatever reason.
Ordering & Payment
Ghoul Gallery conducts business in several trade areas, including direct sales to customers, auctions and for Special Events planning. The following information will attempt to explain the ordering & payment process for all concerns. Once you have placed your order through PayPal

they provide you with a receipt and order number

through their system.

We do not duplicate that notification with our own.

Whether we ship through Fed Ex Ground or US Postal, we attach your email to online shippers, and they notify you of shipping.

We do not duplicate that process

.
Patience
We are a multi-faceted business, planning and conducting special events and nonprofit fundraisers during the day. You will most likely receive an automated response to your email. Please be patient until we can respond to your requests - Thank you for your patience

Online Shopping Cart
Due to our numerous special events, our inventory levels fluctuate quite often. Because of this we now provide you with an online shopping cart. We are not a phone-in order business. We conduct all our business through the convenience of emails. If you do not wish to use the online PayPal Shopping cart, please record in an email, your order, and email us with that order. We will respond at our earliest opportunity to complete your order. Our email is Trifics@comcast.net
(If you do not wish to use the PayPal Shopping cart and prefer to order directly from us paying with cashiers check, money order or personal check...)
To Place a Manual Order:

1. Email us at Trifics@comcast.net
2. Provide us with the item number and description. (We have many items and a detail description will expedite your order process.)
3. Provide us with a shipping address so we can calculate your shipping/handling total.
4. We will respond as quickly as we can.
Cancellations
Once an order is placed it takes time to retrieve the item(s) from offsite storage facilities. This requires employee time and cost. If someone desires to cancel after we have gone through this procedure, and prepared it for shipment, the policy requires a $15.00 cancellation fee to cover our incurred costs. PLEASE ALSO NOTE: PayPal no longer refunds their fee. If an order is canceled, our company cannot pick up the cost of their fee, in addition to the cost for preparing the package for shipment. It's either one or the other. Sorry, but thanks for your cooperation.

PAYMENT

1. We prefer PayPal, cashier checks or money orders. Shipping times can vary. From August through November, items are usually shipped within 72 business hours. However occasionally we are away conducting a fund raising event and order shipments may be delayed a few days. NOTE: If you are in a hurry, such as a birthday, please email us Trifics@comcast.net and inform us of a rush order. We can calculate rush order shipping for you. During summer months, when we have limited, off-season staff, shipping may take 5-10 days as we search for products and prepare them for shipping. We repeat that if you are in a rush, please notify us of a rush order.

2. Personal checks are accepted, but items are held 10 business days after the deposit of a check.

3. We accept VISA or MASTERCARD credit card payment through PayPal. Due to the fact that we serve the international public, we do not publish a phone number, as it would be unattended. On rare occasions we do special accommodations and can take a credit card payment over the phone. Customers are free to email us to inform us of their preferences.

4. Our PayPal Account name is Trifics@comcast.net

5. International Payments must be made through PayPal for more prompt response. For international PayPal payments we must charge a 3% surcharge on all PayPal payments to cover cross border transaction and/or exchange fees.

PAYMENT MAILING ADDRESS:
(This is not a business location - only a mailing address) Please make payments to:
Ghoul Gallery / Trifics
619 Main St.
Oregon City, Oregon 97045

SHIPPING & HANDLING - United States
(For International, see below)

If you are ordering directly from our website, our online ordering system through PayPal automatically calculates your shipping fee based on dollar value. That shipping cost covers insurance up to $100, delivery confirmation, shipping and handling.

We do our best to find you the most economical and best shipping, whether it is with US Postal Service or Federal Express Ground. We reserve the right to choose which shipper we use for any particular package. Typically lower weights (3 lbs or lower) are more economical through US Postal, than Ground Shipping services, however even that is not always the case.

Due to the ever-changing and usually increasing cost of fuel here in Oregon we typically make only two trips a week to shippers – Tuesday's and Fridays. Depending upon when your payment arrives, we will ship on the next corresponding date. Thanks for your understanding. During the Halloween Season from September to October, we make daily trips.



We place a Delivery Confirmation on every package to ensure that the package is being delivered to the appropriate location. Too many packages were getting lost, but with a confirmation we know you are receiving your collectible(s).

We do not require signature confirmation on our package. All shipping services charge extra for that service. If you are uncomfortable with where you live, and would like a signature confirmation in order to leave a package, you may request it, and we will bill you an additional $4.00 for that service (this includes the service and the additional PayPal basic fees for a charge.) We are not responsible for packages once they are left by a shipping service at your door.

Sorry but we use our shippers and our own account number, and cannot use your shipping account number.

We want to be real clear on
Shipping/handling fees US Postal, Fed Ex and others base their fee structure on weight, and dimensions of a box. We could easily place a chart here on our website, with a generic fee structure by dollar figure, but it would definitely penalize some of our customers who order light-weight items. In reverse, some low cost items weigh a lot due to ceramic/glass/clay, and we may not be covering our expenses. The pre-calculated PayPal shipping fees seems to work best for our customers.
If ordering directly from us and not using the PayPal check out, due to the wide variance in shipping weights between ornaments and ceramics or resins, we cannot quote shipping costs until we receive your complete order. Setting a flat fee for shipping may result in over charging our customers. To avoid that, we base our shipping/handling fees by the zip code, weight and size of the shipping box.
If you are ordering directly with us, rather than using our PayPal Shopping Cart, we will need to calculate your shipping & handling costs and email you a shipping statement.
These rates may vary from PayPal calculated rates.

WE HAVE A MINIMUM OF $8.45 for all shipping.
NOTE: OVERSIZED SHIPPING COSTS
: Occasionally items are oversized and require additional shipping. We always try to indicate this on our website. PayPal calculations are based on standard sized items and shipping. If there is additional shipping due, it is only to cover incurred shipping charges. Should a customer cancel due to this additional shipping, the Cancellation policy above requires a $15.00 cancellation fee.
International Ordering: Please Note that PayPal does not provide shipping costs on your order total. Because of the numerous variety of locations, they leave it up to sellers to BILL you after you have placed your order.
The shipping and handling costs to your particular location will have to be calculated on a request basis. (See below for additional handling fees information.)



7-10 day Air Mail rate is obviously much higher than 4-6 week Parcel Post land mail rates. Be prepared, as international shipping can be costly. (Additionally, 4-6 week delivery by boat often increases the risk for damage in cargo holds.)


The buyer is responsible for any applicable import duty and local tax. Please verify with your local customs before purchase. Please do not ask us to lie to your customs and endanger our business.



We are not responsible for any wrong or undeliverable addresses. Because we are required to respond to whether or not to abandon undeliverable packages or pay to have them returned, we do not wish to lose the product to abandonment. We will have to pay extra (typically double) to have the product returned to us here in the United States. If this situation should occur, buyer is responsible for any additional shipping.

Handling Fees are independently determined by the type of product(s) and packaging required. Note: For all cross-border PayPal transactions, we must pass along a 3% cross-border/international fee charged by PayPal and or banks. It will be included in the billed total.

For International shipments, handling fees are somewhat higher, to include extra costs of having to complete international forms, and actually driving to the Post Office, stand in line and confirm with postal workers regarding the contents of the shipment (rather than just pickup service). Fees also defray the costs of shipping container, packing popcorn & other cushioning materials, tissue, tape, labels, and fuel surcharges.
INSURANCE
Insurance is a requirement for all purchases of our collectibles. In spite of all our precautions and careful packing, shipping accidents can happen or packages can get lost in shipping. We are not responsible for reimbursement or replacement for items that are not insured. We don't expect you to be left holding the bag, and neither do we.
In 2005, we experienced several instances of poor performance for insurance claims by Shippers. By reading online auction chat rooms, we are not alone in this frustration. In fact, in early 2006, we have reported one well known shipper to our State Attorney General for their confusing online insurance abuse of accepting payment for items valued over $100, while at the same time, setting a policy limiting claims to only $100. We lost an item valued over $1,000 to this confusing policy and ended up paying our customer from our self-insurance proceeds.
For the protection of our customers and clients we self-insure for all losses through MailSafe*. Those rates are as follows:
Value $.01 to $49.99 $1.75
Value $50.00 to $99.99 $3.50
Value $100 to $199.99 $4.50
Value $200 to $299.99 $5.50
Value $300 to $399.99 $6.50
Add $1.00 per $100 value thereafter.
All packages leaving our business concern are physically inspected prior to leaving our premises.
* International Insurance rates are somewhat higher due to the distance traveled.
RETURNS / DEFECTIVE MERCHANDISE
Due to the nature of collectible merchandise, we expect that the buyers know the item and its value prior to ordering. Many of our item involve secondary pricing which is subject to price variations. We are not responsible for pricing variances with other businesses. Know what you are ordering before ordering.
No refunds are offered

. Only defective product(s) will be offered exchange or store credit. We cannot replace broken/defective one-of-a-kind items, and insurance will need to be used. Digital photos of the breakage or defect will need to be received within 5 days of receipt of the product. Any other defective merchandise will be replaced. There is absolutely no refunds, when we have the option of a replacement product.
Defective products must be returned within 10 days from the date you received your order.

Returns for other reasons may be returned to us within 15 days of receipt, but will have a 25% restocking fee.
All items must be received back in original condition in their original box. They must be re-saleable, and not damaged in any way.
Ship-to and Return shipping are the responsibility of the returning party.
Insurance is non-refundable.
It may take up to 7 business days to process your return after we receive your product.
QUESTIONS
If you have any questions regarding our policies, it is essential that you contact us prior to ordering. If you have a personal request or require further information, please contact us:
Email: Trifics@comcast.net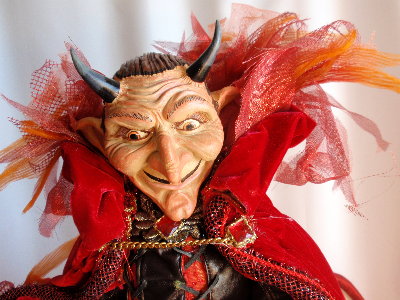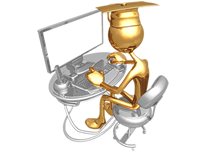 GHOUL GALLERY PRODUCT SEARCH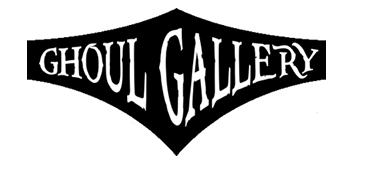 Ghoulish Gifts & Frightful Decor