Page Title goes here
Provide a short description of your web page here, using bright bold pre-styled fonts with colors that stand out ...

1999 Halloween Collecting Essay by Tom Ghoul

It's taken a lifetime of collecting for me personally to arrive at the concept of what I've been told over all these years – collect only what you like! When collecting Halloween there is so much truth to that.

Halloween has been a favorite of mine since I was a small kid in the 50's. I would head downtown with my allowance, and go to all the five and dime stores looking for fun Halloween. I never thought "collectible." I thought "fun." Newberry's, Woolworths, Kresses and the like! Even small community five and dime stores were gold mines for a small kid in the 50's and 60's. There were no Walmarts and other major distributors of mass produced Halloween items.


Tom, circa 1959-61


Tom, circa 1959-61

I would grab a few items and head into the photo booth, located near the Halloween merchandise, attempting to change masks and hats in between the quickly timed flashes of one of those cheap photo booths. I mastered the art at twelve! Sometimes I would tell my parents I was going out to the yard to play. Then I would escape over the fence and down the road several blocks away to the neighborhood five and dime to purchase unique possessions that I would sneak into my hidden treasure trove along with my comic books and baseball cards.

Alas! Those are all long gone! But even those items from the happy days of the 50's are not as collectible as those from the early 1900's. I've scoured several Halloween collectibles books. How I envy those lucky owners of some of the early items from postcards to candy boxes to noisemakers.

So it brings us to the here and now. Manufacturers of Halloween are as plentiful as candy corn! Some create new looking items, while others create reproductions of older pieces, while still others create new folk art items that look like reproductions, but are new Halloween creations in their own rights. Price ranges can vary from a few dollars to hundreds of dollars.

Who's to say what will be collectible in years to come. What makes something collectible is an item that was very popular with a mass audience, but is now extremely limited due to breakage, wear and tear, loss and similar kinds of experiences. Collectibility comes when someone wishes to re-capture those fond memories they had when they owned that item.

In our modern collector period, some people start grabbing up anything from beanie babies to fast food toys to anything stated as "limited and collectible." All a manufacturer has to do now is claim that something is limited edition (it may be limited to 1,000,000, but who cares), and that the item is collectible and watch the crowds flock to grab as many as they can.

Monster Mash Book Opens to play the song, displays the words and has moving haunted house characters. Retired!


Slavic Treasures
Retired Glass Ornament

Bone Pile

On Ghoul Gallery we feature a lot of items that could possibly be collectible in the years to come. Considering the many phases that our generations have gone through, anything is possible. Who would ever have thought that the tacky silver aluminum trees and their color wheels from the 50's and 60's would ever have climbed in such value.

In the same token, who would have ever thought that designer black trees would be the rage of today. Christmas ornaments have now turned to Halloween ornaments. And most Halloween ornaments are limited to 2,000 or less per design by many designers. Considering how fragile glass ornaments are, in future years, ornaments in pristine condition could be quite valuable.

Look at some of the designers. Christopher Radko pushed the envelope wide-open for Christmas ornaments, and several designers followed. He then delved into Halloween, finding an untapped market. In the blink of an eye, several designers again followed. Probably some of the most uniquely creative and gorgeous (if you can call Halloween ornaments gorgeous) are created in Poland by Patricia Breen. Incredible detail and glitter are her trademarks.

There are too many designers to mention here but the list includes Glenn Lewis of Slavic Treasures who added an incredible array of spooky and eerie ornaments to designer Larry Fraga who produces a smaller, but just as detailed, portfolio of ornaments. What follows is Old World (more commonly known as Old World Christmas), Department 56 and of course Christopher Radko.

Department 56 is this generation's biggest producer of future collectibles. If I live long enough I expect that in the year 2050 on an Antique Roadshow, we will see some grownup grandchild displaying their parent's and grandparent's Department 56 collectibles, from ornaments to villages.

Department 56 is a treasure trove of collector's delights. For any holiday from St. Patrick's to Halloween, Department 56 has something for everyone. Their Halloween collection changes yearly. If you see something you like, you had better get it now because by next year it may be out of the line forever. From cocktail swizzle sticks, to pumpkin punch bowls, to large vulture street lamps, Department 56 opens wide its dungeon doors and invites in even the most timid mom to participate in a holiday gone wild. (Even Oprah Winfrey once gave away Department 56 pumpkin hats, in conjunction with Dept 56, to her entire audience.)

Where Department 56 has really shined is in its Halloween village and accessories. In the 90's customers began collecting Christmas holiday villages. Whole rooms of family rooms were filled with various levels of homes and villages. Out went the tunnels and tracks of toy trains, to allow more room for the highly sought after villages. Copied by many, everyone could afford a village of their own. Costco could sell an entire village collection for the price of one Department 56 village piece. The quality difference showed.

Midwest introduced Creepy Hollow in the 90's. It had a good run, but was finally eliminated at the close of the 2003 haunting. That was a shame. While not incredibly detailed, they provided some fun play on words for the homes and businesses that inhabited Creepy Hollow. As time goes by, watch for that village to become more collectible than when it was thriving community.

Department 56 has only recently been gearing up their Halloween village. While the inhabitants of their Halloween Village may look dead, the collectibility is anything but deceased. Some of the pieces are on the spendy side. But many come with lights, sound chips and movement making them unique and scary. Department 56 introduces new pieces each year, while retiring others, and wisely limiting the production of some to the year they were issued.

Department 56 has tried to limit which wholesalers get to purchase Village pieces. Admittedly some people are marketing their wares on Ebay at incredible pricing. Years from now they may kick themselves for being too greedy and anxious.

Department 56 has recently begun a new line of horror film displays. Frankenstein, Wolfman and others are featured. History of the films are on the reverse of the displays. In combining film and Halloween, they may just have another major hit on their hands.


Dept 56 Retired Guitars

While Fitz & Floyd and Lotus International have dominated the ceramic side of Halloween, many other mass producers are jumping on the band wagon. Without a lot more attention to detail, those new to the process will be hard pressed to compete with the detail.

Watch this space as we add more history and information about collectibility. We don't want to pretend that we know everything there is to know about Halloween collecting. But with all the trade shows in various states, you get a very good perspective on what is hot and what is not. I may be no professional, but I know what I like…and I know what my customer base is looking for.

Some additional Halloween thoughts:

Today Halloween is the second largest commercial sales second to Christmas for the amount of money people spend on decorations. Each year the possibilities become more elaborate and expensive.

Over the years, Halloween has gone from a relatively quaint folk holiday to a large-scale public spectacle. Kids trick-or-treat at shopping malls. Temporary Halloween emporiums spring up like ghoulish Starbucks. And homeowners transform their front yards into elaborate horror shows.

In 2002, Americans coughed up nearly $7 billion for costumes, decorations and candy, snapping up dangling moaning ghosts, skeleton chip and dips, decorative lights and party platters.

The history of Halloween goes all the way back to pagan parties known as Samhain. We won't go into the history of Halloween in this web. There are plenty of websites to provide you with the history of Halloween and its beginnings. No matter how it got started, its now a major player in the commercial marketing world. Who's day is it? Does it belong to kids or adults or both.

It was baby boomers who were the first generation to enjoy trick-or-treating on a large scale. And they are currently the driving force behind today's Halloween collecting. Baby Boomers have continued to share it with their own kids as evidenced by all the baby costumes, and parents carrying their babes in arms up to doors for trick-or-treating.

Halloween is open to the interpretation of whoever wants to do what. From school Fall Festivals, to office costume contests to major costume parties offering large scale prizes and vacation trips, Halloween is open to all celebrants of all ages.

It is no longer a pagan holiday or a religious holiday of any nature. It is a party...and an opportunity to get crazy and be something or someone other than yourself. It's a time of cheer and laughter.

Don't wait too long to join in.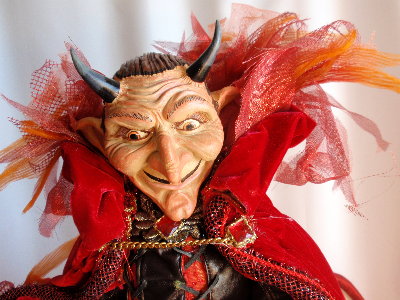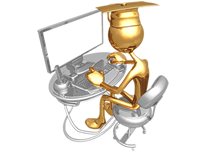 GHOUL GALLERY PRODUCT SEARCH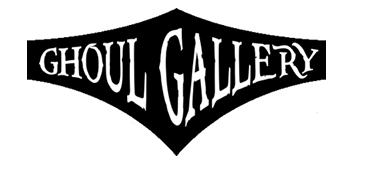 Ghoulish Gifts & Frightful Decor