Ghoul Gallery Catalogue
Ghoul Gallery is a 24 hour round the clock Halloween website, full of Ghoulish Gifts & Frightful Decor!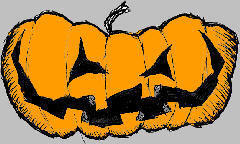 What's New
For Fall 2017, We announced the grand opening of our first ever phyiscal store front on Historic downtown Oregon City's Main Street, the oldest city west of the Mississipi. We've been told that our old building from 1902 is actually haunted. We are also excited to be coordinatiing events with Northwest Ghost Tours of old town Oregon City. More news to follow shortly.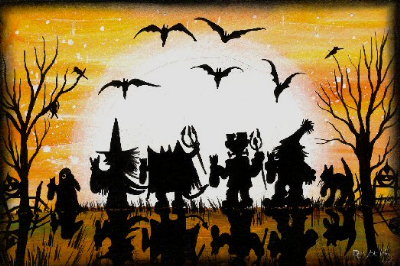 Shipping:

United States &

International
Please be aware that we use PayPal for our shopping cart. Shipping is calculated as a percentage of your purchase. We do not set shipping rates. Those are set by Federal Express ground services and US Postal. Rates drop dramatically when purchases total more than $100. Due to the wide variety of International destinations, PayPal does not calculate or add shipping/handling costs. Those are calculated later and invoiced to you directly. Please read our Shipping Page for more detailed information about shipping.
Candy Dishes & Bowls
Ah! Halloween - the time for treats of all kinds. And we have all the servers you can conjure up to serve your treats in a frightfully ghoulish display to charm your guests. For your convenience we've separated the pages into cakes & cupcakes, cookie jars, and candy dishes. Enjoy!
Cake Plates - page 1 | Cookie Jars - page 2 | Candy Dishes - pages 3 | 4 | 5


Jiggle Arms Ghost in Pumpkin Candy Dish

Price: $29.50


By Department 56
Porcelain, 6" tall x 7 1/2" wide
Hands on springs and jiggle.

Retired 2004; only 2 remain.

Item #: 56.35240




Coffin Candy Dish

Price: $26.50


By Ohio Warehouse
Ceramic, with lid; 10.5" long, x 5.5" wide x 2.5" tall
Retired 2010; 6 sets remain.

Item #: OH_44814





Krinkles Cat Skeleton Candy Jar
Price: $67.49


By Department 56 / Krinkles
Glass, Resin 14" tall, Glittered ribs on the glass

Retired; only 3 remain.


Item #: 56.35779





Skull footed Candy Dish

Price: $32.00


By Boston Warehouse
This footed candy dish is fabulous for serving candy or as a food display on your buffet table. The bottom and the skull feet are all high gloss silver accent. Ceramic, 8.25" dia. x 3" tall
Retired 2009; only 4 remain.

Item #: BW-27042

The Products below are retired and sold out. They are listed here just for historical records.






Fountain look Candy Dish
Price: $36.00

By Department 56
Ceramic, 8 1/2" x 6"
Your choice - Witch or Skull

Retired 2006;

Item #: 56.91569





Fearnology Treat Jar


with motion detector ic sound


Price: $135.00

by Department 56
Ceramic, 11" H
Retired 2007

Item #: 56.28330


Top Hat Skull Candy Dish Set

Price: $49.50

By Department 56
Ceramic, 12"
Retired 2006;

Item #: 56.91563

Skull Candy Dispenser


Tongue on Spring pulls out to drop down M&M's & small jelly beans.



Price: $46.50

By Department 56
Ceramic, 9.5"; Fill in top Hat
Retired 2006;.

Item #: 56.91701

Skeleton on Casket Candy Dish


Price: $27.50

By Lotus International
Ceramic, 6.75" long
Retired 2002.

Item #: LOT_15014



Krinkles
Old Witch & Cauldron Candy Dish
Price: $165.00

By Department 56 / Krinkles
Highly detailed Porcelain

Retired 2006

Item #: 56.35199





Dr. Spooky's Trick or Treat Lab Mortar Bowl & Pestle Candy Dish Set


Price: $48.50

By Midwest
To cure what ails you. Ceramic, 5.5" tall x 8" dia. Pestle is 7 1/4" long. Retired 2006






Krinkles Frog Candy Dish
Price: $89.50

By Department 56 ./ Krinkles
Ceramic, 7", Festive Halloween Frog Retired 2007

Item #: 56.35790

Crow Candy Dish
Price: $99.99

By Department 56
Ceramic, 8" x 9"
Creepy Candy Dish



Frankenstein's Eyeball
Lab Tray Candy Dish
with /Tweezer Server

Price: $45.00

By Department 56
Ceramic, 9" x 11", Four ceramic eyes affixed to tray bottom.
Retired 2006

Item #: 56.35632
Cake Plates - page 1 | Cookie Jars - page 2 | Candy Dishes - pages 3 | 4 | 5
---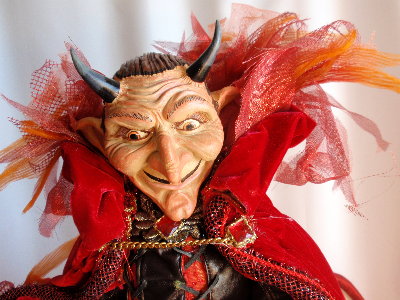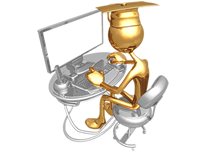 GHOUL GALLERY PRODUCT SEARCH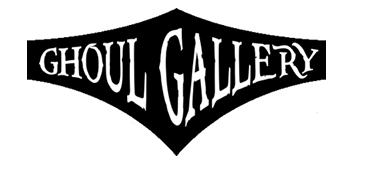 Ghoulish Gifts & Frightful Decor