Ghoul Gallery Catalogue
Ghoul Gallery is a 24 hour round the clock Halloween website, full of Ghoulish Gifts & Frightful Decor!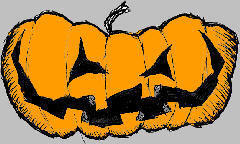 What's New
For Fall 2017, We announced the grand opening of our first ever phyiscal store front on Historic downtown Oregon City's Main Street, the oldest city west of the Mississipi. We've been told that our old building from 1902 is actually haunted. We are also excited to be coordinatiing events with Northwest Ghost Tours of old town Oregon City. More news to follow shortly.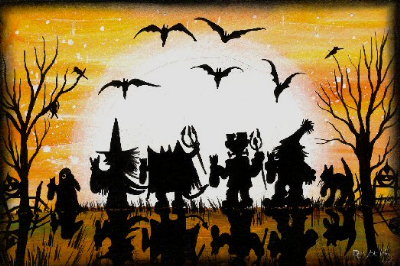 Shipping:

United States &

International
Please be aware that we use PayPal for our shopping cart. Shipping is calculated as a percentage of your purchase. We do not set shipping rates. Those are set by Federal Express ground services and US Postal. Rates drop dramatically when purchases total more than $100. Due to the wide variety of International destinations, PayPal does not calculate or add shipping/handling costs. Those are calculated later and invoiced to you directly. Please read our Shipping Page for more detailed information about shipping.
Katherine's Collection > Decorations
Probably one of the most creative designers with the most attention to detail. This designer is truly one of those producers of collectible Halloween, now and for the future. Their small designs are special, but their large dolls are even more spectacular.
For your convenience we are separating decorations and dolls.
Katherine's Collection of Decorations >> See More pages 1 2 3
No SALES TAX*,
* Oregon is a No Sales Tax State. This could mean up to 14% savings depending upon where you live
Katherine's Collection of Dolls Page 1 | Page 2


The Mystic Warted Frog Family

Sold separately below.

"Fang" Collared Frog Warted Frog Collection

Price: $29.99

By Katherine's
What would Halloween be without frog wart in the witch's brew? These unusual frogs are better kept as pets. Resin, 4" x 4" and comes with collar.

Retired 2011

Item #: 29-29098_A

"Wizard" Frog
Warted Frog Collection

Price: $29.90


By Katherine's
What would Halloween be without frog wart in the witch's brew? These unusual frogs are better kept as pets. Resin, 4.5" x 3.5" and comes with the hat.,

Retired 2011

Item #: 29-29098_B

"Blech"
Frog Warted Frog Collection

Price: $29.90


By Katherine's
What would Halloween be without frog wart in the witch's brew? These unusual frogs are better kept as pets. Resin, 6" x 4" and comes with cap.,

Retired 2011

Item #: 29-29098_C

"Witch's Glittered Shoe"

Price: $124.90

By Katherine's
Beaded Handle, Full siz shoes 8 1/2" Tall x 11" long. .Heavy, HEAVY Glittered - the entire shoes is glittered. Fantastic as a centerpiece. full of candy.,

Retired 2011

28-28307_A




"Witch's Glittered Shoe"

Price: $124.90

By Katherine's
Beaded Handle, Full siz shoes 8 1/2" Tall x 11" long. .Heavy, HEAVY Glittered - the entire shoes is glittered. Fantastic as a centerpiece. full of candy.,

Retired 2011

28-28307_B





Pumpkin Dapper Trio
Price: $149.50
For each one


by Katherine's
This dapper trio of Pumpkin fellows is quite detailed even down to their felt-smooth coat tails. This trio will add to your Halloween ambiance with just the right high fashion, vintage look. This trio is extremely detailed complete with bumper shoots, canes and spats on their shoes. This pricing for the trio. Various heights.

Retired 2011; only a few remain.

Item #:28-29374_All

Pumpkin Dapper "Eggbert
Price: $149.50


by Katherine's
Eggbert is the tallest of the dapper trio. Eggbert has an old style pipe and cane. Resin,

Retired 2011; only a few remain.

Item #: 28-29374_A

Pumpkin Dapper "Stanley"
Price: $149.50


by Katherines
Stanley is the medium size pumpkin of the dapper trio. Stanley is quite dapper with his shoulder epaulets, black tails, (Curling up in the back) and silver hair.

Retired 2011; only a few remain.

Item #: 28-29374-B

Pumpkin Dapper "Gilbert"
Price: $149.50


by Katherines
Gilbert is the shortest of the dapper trio,. Gilbert has an old style stogie cigar and open umbrella so he doesn't over-ripen.

Retired 2011; only a few remain.

Item #: 28-29374-C






Skeleton Ribbon Tassle Ornaments

Price: $44.99 each


by Katherine's
8" tall, Maid and Butler with tray. Lots of ribbon detail. Mail or Female

Retired 2010; only a few remain.

Item #: 11-32313

Skeleton Boneworth Dangle Ornaments

Price: $42.89 each


by Katherine's
12" tall, Maid and Butler with tray. Dangling skeleton legs, lots of glitter and material. Resin body parts.

Retired 2010; only a few remain.

Item #: 28-28693


Infamous Movie Classic Horror Film Characters
Frankenstein, Wolfman, Dracula
Posable dolls by Katherine's Collection

See Doll Page (Under $100)
Bat Candy Cone
Hanging Ornaments

Price: $24.89 each


by Katherine's

7 1/2" tall, Resin head. Lots of material. Fill with candy or other surprises and hang from a tree or window or chandelier or....

Retired 2011; only 2 of each remain.

Choose orange, purple or green cone, or receive at our random choice.

Item #: 28-28688

Ghoulish Harvest Creatures

Price: $157.89 Each


by Katherine's

13", 16", 18" tall. One is a rotten apple ("Rotten to the Core) the other pumpkin (The Pumpkin Carver"); and the tallest is a smiley corn stalk ("The Corn Stalker"). Lots of material, poseable arms, cone bases (no legs - just cones). These are going to make an incredibly fun centerpiece as a grouping. Resin shaped head and hands.

Retired 2011

Item #: 28-29089_All


Vampira Spider Pair

Price: $145.89

by Katherine's

7 " tall (depending upon how you spread the legs., Resin head. Lots of material. Hang from a tree or window or chandelier or....

Retired 2011; only 2 Pairs remain.

Item #: 28-29097

The items below are sold out, but listed here for historical reference
Vampire Blood Garland


Price: $12.69

by Katherine's
9 feet long, red and black thick garland. Retired 2011

Item #: 18-82189

Lucifer Mantle Doll


Price: $295.89

18" tall, Lots of material, long, tall and pitch fork. This mantle doll is incredibly detailed. Resin shared head and hands.

Retired 2011

Item #: 18-82586




Hanging Blood Bones
Price: $22.95

Retired 2011;

Item #: 28-29094

"Witch's Purse"

Price: $36.90

By Katherine's
This fun little witch purse is resin on the outside with orange velvet lining on the inside. Use it as a decoration, but also has a purse if you like. Resin, 6" x 4" and comes with cap.,

Retired 2011

Item #: 05-12513




Kitchen Crows: Harvey & Haddie



Price: $99.50 each

by Katherine's
With fork and spoon at hand, these crows like all squawking crows are ready to dine on your kitchen scraps.

Retired 2011

Item #: 28-29375

Test
Katherine's Collection of Decorations >> See More pages 1 2
Katherine's Collection of Dolls Page 1 (Under $100) | Page 2 (Over $100)
---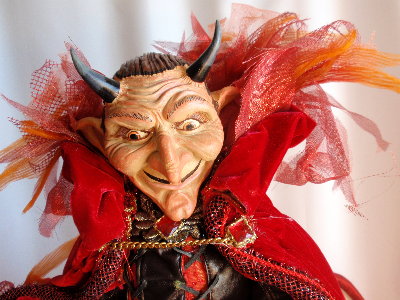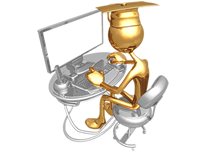 GHOUL GALLERY PRODUCT SEARCH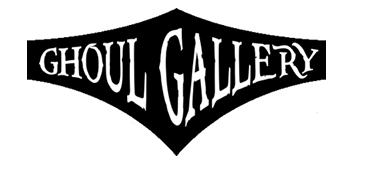 Ghoulish Gifts & Frightful Decor