Ghoul Gallery Catalogue
Ghoul Gallery is a 24 hour round the clock Halloween website, full of Ghoulish Gifts & Frightful Decor! Sorry, but we are web-based only, and do not take phone orders.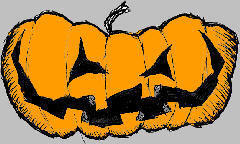 What's New
For Fall 2017, We announced the grand opening of our first ever phyiscal store front on Historic downtown Oregon City's Main Street, the oldest city west of the Mississipi. We've been told that our old building from 1902 is actually haunted. We are also excited to be coordinatiing events with Northwest Ghost Tours of old town Oregon City. More news to follow shortly.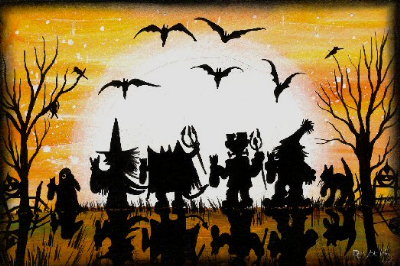 Shipping:

United States &

International
Please be aware that we use PayPal for our shopping cart. Shipping is calculated as a percentage of your purchase. We do not set shipping rates. Those are set by Federal Express ground services and US Postal. Rates drop dramatically when purchases total more than $100. Due to the wide variety of International destinations, PayPal does not calculate or add shipping/handling costs. Those are calculated later and invoiced to you directly. Please read our Shipping Page for more detailed information about shipping.
Salt & Pepper Shakers
What good is a haunted Halloween buffet table without appropriate salt & pepper shakers? They can be scary, cute or just downright Halloween festive. In any case, they set a festive scene. They are also some of the most collectible Halloween items.
Salt & Pepper shakers page 1 2



Party Pumpkin Salt & Pepper Set
Price: $24.99


By Department 56/Glitterville
Ceramic, 6 1/2 "

Retired 2006; only 2 sets remain.

Item #: 56.29053




Skull Apothecary Salt & Pepper Set
Price: $

32.00

By Department 56
Ceramic, 4 1/2 " , Retired 2006; .

Item #: 56.35618



Bone Appetite Salt & Pepper Set
Price: $74.99


By Department 56
Ceramic, 7 x 7 1/2 "' Two little glass domes cover the salt & peppers shakers.

Retired 2007

Item #: 56.28342

Witch on Scooter Salt & Pepper Set


Price: $26.99

By Department 56
Ceramic, magnetized, 4 1/2 "

Retired 2008

Item #: 56.796507

Frankenstein in Car Salt & Pepper Set


Price: $29.99

By Department 56, Ceramic, 4 1/2 "

Retired 2008

Item #: 56.796532


Siamese Twin Headed
Salt & Pepper Set
Price: $27.99


By Department 56
Ceramic, 7 1/2 "

Retired 2006; only 3 sets remain.

Item #: 56.799647

Pumpkin Stump Salt & Pepper Set
Price: $19.99


By Department 56
Ceramic, 4 1/2 "

Retired 2008; 6 sets remain.

Item #: 56.797147



Google Eye Cat in Pumpkin Salt & Pepper Set


Price: $36.99

By Department 56
Ceramic, 5 "

Retired 2004

Item #: 56.35072





Black Cats on pillow
Salt & Pepper Set


Price: $15.99

By Amscan
For the cat lover...these cute ceramic shakers are to be a great hostess gift, or on your own buffet table, Ceramic, 4 1/2 "

Retired 2011

Item #: AMS-468234




Eye Balls on a Tray
Salt & Pepper Set
Price: $15.99


By Amscan
Great hostess gift, or on your own buffet table,
Ceramic, 3 1/2 "

Retired 2011; 5 sets remain.

Item #: AMS-468206

Krinkles Hanging Rats Salt & Pepper Set,

Price: $64.99

By Dept 56/Krinkles
Truly collectible item: Two rats hanging by their tails over a witche's hat, Ceramic,

Retired 2007

Item #: 56.36469

Magnetic Ghost Salt & Pepper Set


Price: $45.00

By Dept 56
Ghost appears to pass through glass window. Great hostess gift,

Retired 2006;.

Item #: 56.99391


Bride & Groom Newly Deads
Salt & Pepper Set


Price: $22.50

By One Hundred 80 Degrees
Great ashostess gift, or on your own buffet table,
Ceramic, 3 1/2 "

Retired 2011; 5 sets remain.

Item #: PJ0350

Witch Shoes on tray Salt & Pepper Set,

Price: $16.50


By Amscan
Ceramic, 3 " tall shoes

Retired 2011

Item #: AMS-443458




Jack O'Lantern & Crow
Salt & Pepper Set


Price: $24.99

By Fitz & Floyd
Great hostess gift, or on your own buffet table,
Ceramic, 3"

Retired 2004;few sets remain.

Item #: FF 2063.221




Cat & Jack O'Lantern
Salt & Pepper Set



Price: $19.99

By Fitz & Floyd
Ceramic, 3 1/2 "

Retired 2002

Item #: FF-2063.138
---
Salt & Pepper shakers page
1
2
---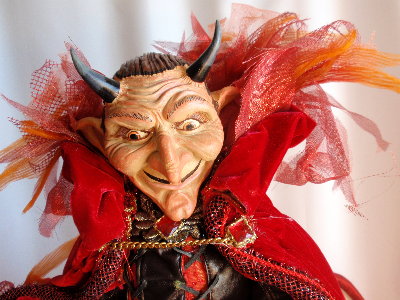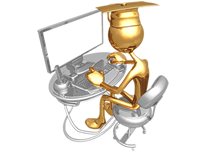 GHOUL GALLERY PRODUCT SEARCH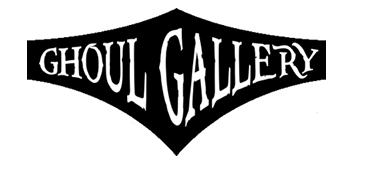 Ghoulish Gifts & Frightful Decor