l Gallery Catalogue
Ghoul Gallery is a 24 hour round the clock Halloween website, full of Ghoulish Gifts & Frightful Decor!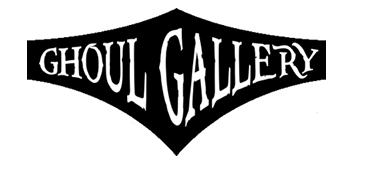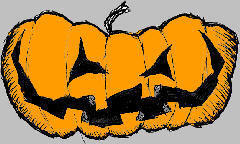 What's New
For Fall 2017, We announced the grand opening of our first ever phyiscal store front on Historic downtown Oregon City's Main Street, the oldest city west of the Mississipi. We've been told that our old building from 1902 is actually haunted. We are also excited to be coordinatiing events with Northwest Ghost Tours of old town Oregon City. More news to follow shortly.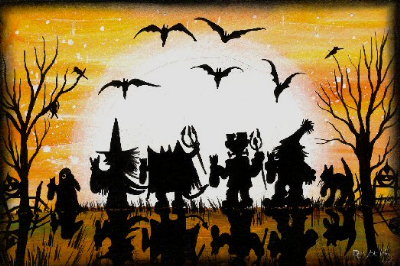 Shipping:

United States &

International
Please be aware that we use PayPal for our shopping cart. Shipping is calculated as a percentage of your purchase. We do not set shipping rates. Those are set by Federal Express ground services and US Postal. Rates drop dramatically when purchases total more than $100. Due to the wide variety of International destinations, PayPal does not calculate or add shipping/handling costs. Those are calculated later and invoiced to you directly. Please read our Shipping Page for more detailed information about shipping.
One Hundred 80 Degrees Halloween
One Hundred 80 Degrees, a breakoff collection by Stephen Brown, one of the co-designers of Glitterville, and David Dewey. Stephen attended the University of Tennessee where he was in the Theatre Design program. After college he moved to New York City to become a costume designer for television and film. His clientele included celebrities Mariah Carey, Jake Gyllenhaal and others. While dressing stars and working as an actor on various soaps, he became a window dresser for Henri Bendel and other 5th Avenue stores. In 2004, he created Glitterville, the popular holiday collectible line licensed to Department 56. In addition to ornaments and seasonal decor, Glitterville has expanded to include a complete line of textiles and a weekly television show hosted by Stephen. He looks forward now to making everyday a holiday at One Hundred 80 Degrees with partner, David.
David Dewey graduated from Middlebury College in 1979 with a double major in Asian history and Chinese language. After college he moved to Taiwan where he opened his own trading firm that started the popular Snowbabies and Heritage Village collections. In 1989 he became executive vice president of sourcing and product development for Department 56 which he maintained until retiring in 2004. Since that time he has worked as a consultant and done extensive research on how to create a new kind of company that could change the face of the giftware industry.
Limited quantities available of 1 or 2 each design.
A Curious Garden by Ellen Gomoll (below)

Uncommon vines come from a different place and vine. In Ellen Gomoll's garden, there dwells a curious little group of philosophical squash and pumpkins. These quirky "curcubites" have an uncommon lot to say (at least given the most recent squash poll...) about finding the goodness in your own little chunk of the earth. Grab some chairs an set a place at the table for some unique harvest attitude.





Pumpkin Character

Basket
9" Tall, sold-heavy resin
Check out the facial detail,

This item is heavy and may require additional shipping depending upon your location in the US.

$134.50

Item TS0028_A

Pumpkin Character

Basket
9" Tall, sold-heavy resin
Check out the facial detail,

$134.50

Item TS0028_B

This item is heavy and may require additional shipping depending upon your location in the US.

Pumpkin Character
"Crazy Pear"

Various heights of 7 1/2" Tall, sold-heavy resin
Check out the facial detail,

$67.50

Item TS0029_A



Crazy Gourd -

"Eggplant"

Various heights of 8" tall, resin. Check out the facial detail,

$67.50

Item TS0029_B





"Grouchy

Gourd"

Various heights of 7 1/2" tall, resin. Check out the facial detail,

$67.50

Item TS0029_C






"Smiling

Gourd"

Various heights of 5 1/2" tall, resin. Check out the facial detail,

$67.50

Item TS0029_D







"Pensive

Gourd"

Various heights of 8" tall, resin. Check out the facial detail,

$67.50

Item TS0029_E


"Cheerful

Gourd"

Various heights of 4 1/2" to 6 1/2" tall, resin. Check out the facial detail,

$67.50

Item TS0029_F

"FRANKENMUG"

Halloween "Daddy Frankenstein" Stein
Ceramic Mug, 6.25" Tall

$44.50 each

Item #LC0051-A





Skull and Bones
Sectional Server
Black with Silver accents - four Section serving tray, includes silver skull bowl. - 12" x 12"

$84.50 each
RETIRED, 2 left

Item #PJ0228

Skull and Bones
Tray Server
with Center Pole
Black with Silver accents - four Section serving tray, includes silver skull bowl. - 10" x 10". Pole is 8" tall

$79.50 each
RETIRED, 4 left

Item #PJ0227




Skull and Bones Punch Glass Cups with Skull & Bones Etched into black glass

$17.50 each
Black with silver accents 3.25" tall ceramic

Item #LC0061, Only 24 left





Witch Legs Pedestal Candle Holder
Let this Witch's feet candle holder with striped legs, black boots with silver buckles and a real tulle skirt put a spell on you. Made of glazed ceramic, holds standard pillar candle (not included). 7.75" tall

$32.50 each

Item #PJ0257








Skull Arms Candlestick Holder







Mad Scientist

Water Globe

7" Tall, 120mm ball, resin, with red glitter, battery operated. Quite a detailed mad scientist. This is fun!

$69.50

Item TS0024









"Toad/Frog Cauldron
Cookie Jar"

Price: $54.49

Retired 2012, One Hundred 80 degrees created this fun frog Trick or Treat jar. Use if cookies or candy. Dimensions: 9" diameter , ceramic base, glass top.




"Skeleton Bowl
with knife spreader"

Price: $27.50

Retired, One Hundred 80 degrees created this fun skull bowl for cheese or other Halloween treats on your buffet table. Knife pulls out of ceramic sheath.
Dimensions: 7.5" long, ceramic, metal knife.

Inventory level: 4


"Pumpkin Head Bowl
with knife spreader"

Price: $27.50

Retired, One Hundred 80 degrees created this fun skull bowl for cheese or other Halloween treats on your buffet table. Knife pulls out of ceramic sheath.
Dimensions: 7.5" long, ceramic, metal knife.

Inventory level: 4


"Frankenstein Bowl
with knife spreader"

Price: $27.50

Retired, One Hundred 80 degrees created this fun skull bowl for cheese or other Halloween treats on your buffet table. Knife pulls out of ceramic sheath.
Dimensions: 7.5" long, ceramic, metal knife.

Inventory level: 6





"Phrenology Flip Top Box"

Price: $54.49

Retired, One Hundred 80 degrees created this fun skull phrenology flip top box to hold treasures, candy or whatever. Comes in gift box as pictured below.
Dimensions: 7" tall, ceramic,

Below are sold Out Collectibles, listed here only for your reference.

Set of 4 Pumpkin

Placecard Holders
3-4" Tall, heavy resin

$59.99

Item TS0031


Skull and Bones Pedestal Cake Plate with Glass Dome and Dangling Skulls
Black with silver accents and full glass dome 13.5" tall

$224.50 each
Retired

Item #PJ0230




Skull and Bones Punch Mugs
Black with silver accents 3.25" tall ceramic

Item #PJ0239

SOLD OUT




Halloween Wire Tree with Black Glitter
Black with black glitter - really spooky cool 15.5" tall

$47.50 each

Item #UC00061




Screaming for Sweets
Candy Jar
This ghoulish container will be the life of the party. When guests remove the top to sneek a sweet, the eyes flash like lightning as the sounds of hysterical laughter is heard....maybe he knows the calories in that fist full of candy corn..take some if you dare - 9" tall

$38.00 each

Item #PJ0235
---
---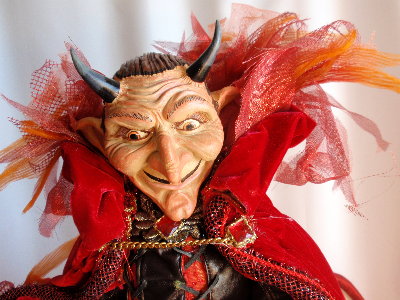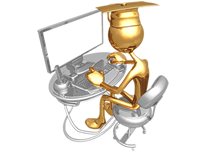 GHOUL GALLERY PRODUCT SEARCH
Ghoulish Gifts & Frightful Decor