l Gallery Catalogue
Ghoul Gallery is a 24 hour round the clock Halloween website, full of Ghoulish Gifts & Frightful Decor!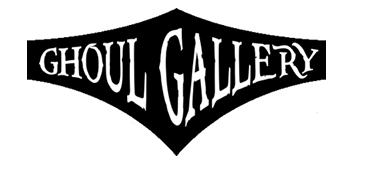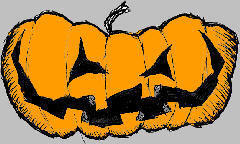 What's New
For Fall 2017, We announced the grand opening of our first ever phyiscal store front on Historic downtown Oregon City's Main Street, the oldest city west of the Mississipi. We've been told that our old building from 1902 is actually haunted. We are also excited to be coordinatiing events with Northwest Ghost Tours of old town Oregon City. More news to follow shortly.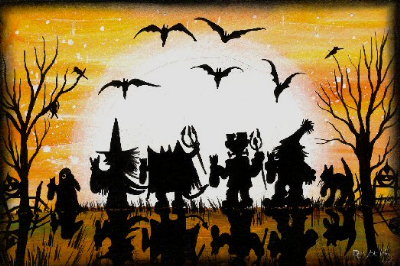 Shipping:

United States &

International
Please be aware that we use PayPal for our shopping cart. Shipping is calculated as a percentage of your purchase. We do not set shipping rates. Those are set by Federal Express ground services and US Postal. Rates drop dramatically when purchases total more than $100. Due to the wide variety of International destinations, PayPal does not calculate or add shipping/handling costs. Those are calculated later and invoiced to you directly. Please read our Shipping Page for more detailed information about shipping.
Halloween Kitchen
Most of the preparation for your Halloween party takes place in your kitchen. Yet the kitchen is probably one of the most overlooked rooms for your party. When you consider that most guest gather in your kitchen at parties, you had better do it up right with some of our Halloween Kitchen useful utensils and wearables such as aprons.




l

Skull Kitchen Brush
Price: $9.49

Put away that ugly scrub brush for your party and display this skull kitchen brush in your house,

Item #: BW-54601

2011 Release

Pumpkin Cookie Spatula/ Turner

This kitchen utensil is remarkable. We've never seen anything like it. Delight your kids when they see you flip your Halloween cookies with this heat resistant turner. Heat resistant up to 400 degrees, Nylon Head, dishwasher safe.

The nylon pumpkin is 5 1/4" wide and the whole flipper is 12" tip to tip. Totally original, from the Martha Stewart collection.

$16.49

Item MS-40-5422 - 252
Only six available


2011 Release

Pumpkin Orange

Spatule Set of 3

These kitchen utensils are a must for your Halloween cooking. Bright orange tips to bold black handles. By the creative guys at Glitterville. .

$16.49

Item ES-0092 _165
Only six available






2011 Release

Cupcake and Cookie Boxes

For packing ghostly goodies to go. 6 collapsible cupcake and cookie gift boxes. Each box holds 4 cupcakes and even comes with removable cupcake insert.

Each box is 6 1/2" square and 3" deep.

$14.95 / six boxes

(3 of each design)
(less than $2.50 per box)

Item MS-90-5514_252







2011 Release

Halloween Tin Boxes

Above were the paper, and now we have the tin. For packing ghostly goodies to go. Two different sizes. The "Trick or Treaters" design around the outside and on the top coordinate with melamine plates, platter and mugs on other Ghoul Gallery pages.

Small Tin Box #1 (8" Square x 4" deep).

Large Tin Box #2 (9.5" Square x 4.75" deep).

SF-0016- in 169 SF
Trick or Treat Metal Cookie Cutter Set

Price: $8.99

These aren't just for cookies. Try cutting finger sandwiches with these cutter for special finger foods. Or use them as ornament on a tree or wreath.

6 pieces: Cat, Witch, Bat, Owl, Witches Broom and Pumpkin. Comes in this cute gift box for hostess gift giving.
Retired, 5 remain

Item #: 1966


Spider Web Cookie Cutter Set

Price: $8.49

These aren't just for cookies. Try cutting finger sandwiches with these cutter for special finger foods. Or use them as ornament on a tree or wreath.

3 pieces: Web, spider & bat. Comes in this cute gift box for hostess gift giving.
Retired, 5 remain


Halloween Colored Metal Cookie Cutter Set

Price: $11.99

These aren't just for cookies. Try cutting finger sandwiches with these cutter for special finger foods. Or use them as ornament on a tree or wreath.

6 pieces: Cat, Witch, Witch's Hat host & Moon. Comes in this cute gift box for hostess gift giving.
Retired, 5 remain

Item #: 1852

*
Halloween Cake Stencils
Set of Three

Price: $14.99

These stencils are the perfect way to turn a delicious cake into an unforgettable creation. Just dust with powdered sugar. A Martha Stewart inspiration.
.
Retired, 8 remain

Item #: MS-90-5415.




Pumpkin-Trio Halloween Apron


Price: $24.99

By Midwest
Adult-size apron with black neck

Item #: MW-686409

Retired 2007
Department 56
Aluminum Salad Tons
Arm & Hand Bones

Price: $64.99

Retired many years ago, and we just found a box of these unique Salad Tongs. We have never seen anything like this by any other designer other than creative Department 56.
Retired, 4 remain

Item #: 56.98609-166





** FINAL TWO **font>/b>

Pumpkin Tureen

With Ladle

11" Tall, 10" Diameter; Spoon - 13" long, fired ceramic. Made exclusively for Valerie. Great for soups and other servings at your dinner party or buffet table. Heck you can even use this as a punch bowl. A truly unique design.

$89.50

Item GC0007


Brew Pot Fondue Set

Price: $124.99

By Department 56.

9.5" x 9.25", Ceramic with 6.25" Frog Utensil Holder.
.
Retired 2007, Only 2 remain

Item #: 56.99360




Halloween Re-Usable
Cupcake Picks
Price: $14.50

By Department 56/Glitterville.
Reusable cupcake picks. Heavy Resin, Set of four, 4"
Retired,

Item #: 56.29051
---
---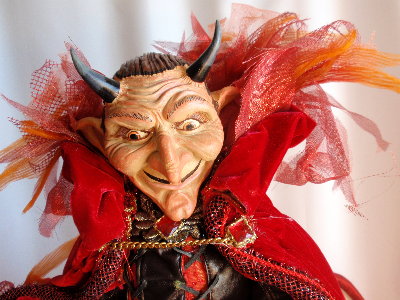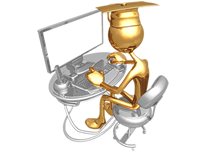 GHOUL GALLERY PRODUCT SEARCH
Ghoulish Gifts & Frightful Decor