Ghoul Gallery Catalogue
Ghoul Gallery is a 24 hour round the clock Halloween website, full of Ghoulish Gifts & Frightful Decor!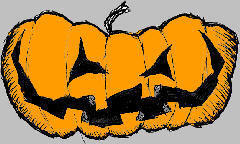 What's New
For Fall 2017, We announced the grand opening of our first ever phyiscal store front on Historic downtown Oregon City's Main Street, the oldest city west of the Mississipi. We've been told that our old building from 1902 is actually haunted. We are also excited to be coordinatiing events with Northwest Ghost Tours of old town Oregon City. More news to follow shortly.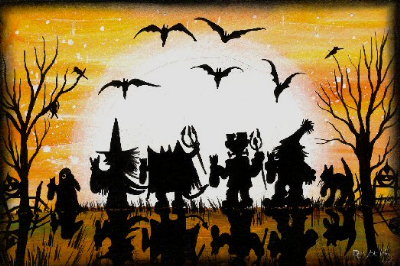 Shipping:

United States &

International
Please be aware that we use PayPal for our shopping cart. Shipping is calculated as a percentage of your purchase. We do not set shipping rates. Those are set by Federal Express ground services and US Postal. Rates drop dramatically when purchases total more than $100. Due to the wide variety of International destinations, PayPal does not calculate or add shipping/handling costs. Those are calculated later and invoiced to you directly. Please read our Shipping Page for more detailed information about shipping.
Drink Servers & Punch Bowls
Drink Servers or Cider Servers, as many call them, are festive ways to pre-mix your punch prior to your party, and then have your guests serve themselves from the fun characters, either hot or cold. All of the Cider Servers pictured here have bases for votive candle heating beneath.
Department 56 began the collection of Cider Servers designing one each year. But with the departure of Department 56 from the market place due to a bankruptcy and sell out to Enesco, they left an empty market place. One Hundred 80 Degrees has slowly crept into that market. What we present here is the remaining inventory of retired drink servers. Get your favorite while you still can.



Retired Long ago,

This item weighs 20lbs and may require extra shipping charges due to its weight, size and distance.


SKULL PUNCH BOWL
with 8 ceramic Skull cups
Ceramic,

14" x 12"

$159.95




Pumpkin Skull Cider Server
Price: $239.99

By Department 56

Ceramic, 13"w x 20"t
This is what we consider the King of the Cider Servers due to its size and detail. (You'll find the Queen below) Black bats wraps around the base, and you can even inscribe on the white banner on the front with marking pens.

Retired 2008; only 4 remain.

Item #: 56.796520






Halloween Pumpkin Cauldron Cider Server
Price: $120.00


By Department 56
Ceramic, 7"w x 12"t

Retired 2008; only a few remain.

Item #: 56.796471

Queen Mummy Drink Server


Price: $447.50

By Department 56
Ceramic, 10.5" w x 17.5" t
ONE OF THE BEST COLLECTIBLES EVER BY DEPT 56.

Retired 2007

Item #: 56.92272

&

Slimey Brew Pot
Drink Server
Price: $329.00


By Department 56
Ceramic, 16" T

See more detail photos below

Retired 2007; FINAL ONE.

Item #: 56.99339


Base, cauldron & Lid

Slimey Lid

Spooky Sighter
Cider Server
Price: $295.00


By Department 56
Ceramic, 17 1/2" T

Retired 2006; FINAL ONE.

Item #: 56.35631


Pumpkin Ghost
Drink Server


Price: $155.00




By Department 56
Ceramic, 14" T

Retired 2005; only a few remain.

Item #: 56.33693


TALL Brew Ha Ha
Drink Server
Price: $345.00


By Department 56
Talk about a real fun drink server. Ceramic, 27"t

Retired 2006; only 2 remain.

Item #: 56.91777

8 Legged Freak Spider Drink Server


Price: $295.00

By Department 56
Ceramic, 20" t

Retired 2004

IItem #: 56.29035


Google Eye Devil
Drink Server
Price: $365.00


By Department 56
Ceramic, 14" L

Retired 2004; only a few remain.

IItem #: 56.35066

Haunted House
Beverage Server
Price: $229.50


By One Hundred 80 Degrees
Ceramic,14"; First drink server by 180 Degrees, after the departure of Dept 56. This is really ghoulish. Black spigot on front of house.

Current; 4 in stock

Item #: PJ_0486


top lid off

Backside



Punchy The Punchbowl


Price: $345.00

By Department 56/
One Hundred 80 Degrees
This is huge. Quite a centerpiece attraction. Complete with ladle and tray collar. Ceramic, 19" x 11"

This may require additional shipping cost due to weight & size..

Item #: PJ_0245

Eyeball Punch Bowl




Price: $325.00

By Department 56
Big, beautiful bowl with ladle server. Ceramic, 11.5" x 10"

Retired 2006

Item #: 56.92267




Skull Punch Bowl
with Claw Ladle


Price: $149.00

By Department 56
Very detailed Punch Bowl Ceramic, 13" x 7" x 10"

Retired 2006

Item #: 56.98617

Large Skull in Hand
Punch Bowl
Price: $160.00


By Department 56
Large Skull held in hand Ceramic, 10.75 x 12"

Retired 2008; only 3 remain.

Item # 56.796529





Skull & Bones Punch Bowl with Bone ladle and Dangling silver skulls


Price: $224.50

By One Hundred 80 Degrees
Black with silver accents. Made of high quality ceramic with fired silver glaze. Pick your poison and serve it in style. 15.5" tall

Retired 2008;

Item # ONE PJ0231

Trick or Treat Pumpkin Punch Bowl


Price: $115.00

By Heather Goldminc
Approximately 13" tall x 10" wide, includes original box.

Retired 2004; only 2 remain..

Item # BHW3022127/p>

View Bar Accessories page or view Drinking Mugs, Cups & other Drinkware
---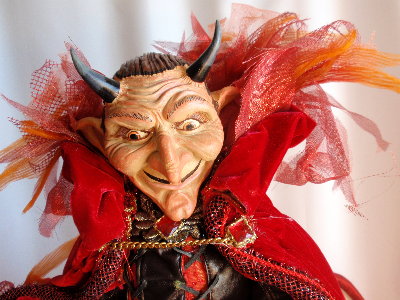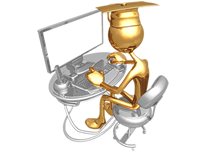 GHOUL GALLERY PRODUCT SEARCH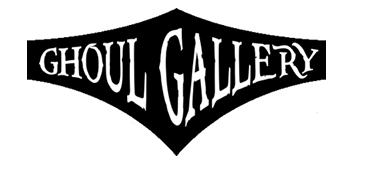 Ghoulish Gifts & Frightful Decor