houl Gallery Catalogue
Ghoul Gallery is a 24 hour round the clock Halloween website, full of Ghoulish Gifts & Frightful Decor!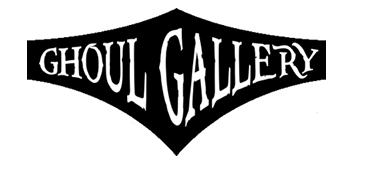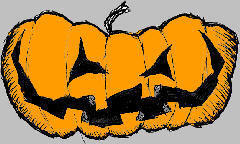 What's New
For Fall 2017, We announced the grand opening of our first ever phyiscal store front on Historic downtown Oregon City's Main Street, the oldest city west of the Mississipi. We've been told that our old building from 1902 is actually haunted. We are also excited to be coordinatiing events with Northwest Ghost Tours of old town Oregon City. More news to follow shortly.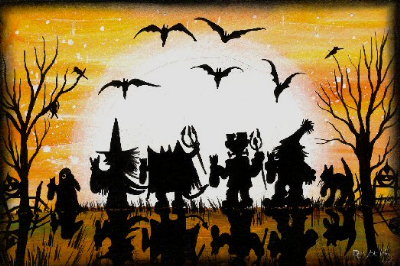 Shipping:

United States &

International
Please be aware that we use PayPal for our shopping cart. Shipping is calculated as a percentage of your purchase. We do not set shipping rates. Those are set by Federal Express ground services and US Postal. Rates drop dramatically when purchases total more than $100. Due to the wide variety of International destinations, PayPal does not calculate or add shipping/handling costs. Those are calculated later and invoiced to you directly. Please read our Shipping Page for more detailed information about shipping.
Mark Roberts Doll Collectibles
Established in 1984, Mark Roberts was founded to bring to life all the characters that, as a little boy, Mark's mother used to tell him about but he was unable to physically see. For over 25 years his business has grown into one of the largest and most renowned collectibles company in the nation and the world, with collectors in every state and over 20 countries. Mark Roberts's creations are sold at retailers ranging from local high-end boutiques to more prestigious iconic stores such as Nordstrom, Saks Fifth Avenue, Gumps by Mail, Bloomingdales and Macy's.
Most of these are all officially Retired but we still have inventory! During a recent inventory we uncovered a box. These are in extremely limited quantities
SPECIAL NOTE: We purchased these dolls in January of 2012, but due to a passing our family did not get around listing these until Fall of 2012. Being so limited they have sold out just about everywhere we checked. Get these early. Limited quantities available of 1 or 2 each design.




Plum Pretty

Kitchen Fairy

as presented by Mark Roberts

Limited Edition of 1,000

Our Current Inventory: 2 left

13 1/2" Tall

#51.27520_X205






Holds a Pumpkin pie in his left hand







Masquerade Ball

Spice Witch Fairy

as presented by Mark Roberts
Incredible attention to detail with magnificent materials

Limited Edition of 250
Retired 2012

Our Current Inventory: 2
22 1/2" Tall

#51.12102


Backside




Masquerade Ball

Passion Witch Fairy

as presented by Mark Roberts
Incredible attention to detail with magnificent materials

Limited Edition of 250
Retired 2012

Current Inventory: 2
22 1/2" Tall

#51.12106

$254.95





Masquerade Ball

Elegant Witch Fairy

as presented by Mark Roberts Incredible attention to detail with magnificent materials

Limited Edition of 250
Retired in 2012

Our Current Inventory: 2
22 1/2" Tall

12110







Masquerade Ball

Glamour Witch Fairy

as presented by Mark Roberts Incredible attention to detail with magnificent materials

Limited Edition of 250
Retired in 2012

Our Current Inventory: 2
22 1/2" Tall

#51.12114




Moon Chair



Very detailed Lounge Chair for displaying your witch dolls. Black on gold design

As presented by Mark Roberts

Limited Edition

Our Current Inventory: 4
17 1/2" Tall

#51.02590

$76.95




Eerie WIngs


Flying Nefarious Monkey - A

as presented by Mark Roberts

Limited Edition

Our Current Inventory: 2 left

12 1/2" Tall #51.02542_X205

$124.49

Notice the detail of Nefarious's feet







Flying Passion Monkey
as presented by Mark Roberts

Limited Edition

Our Current Inventory: 2 left

13 1/2" Tall #51.02538_X205

$124.49





Tambourine Monkey
as presented by Mark Roberts

Limited Edition

Our Current Inventory:OUR FINAL ONE
14" Tall #51-12694_X205

$124.49

Tambourine Detail/ Monkey Boots





Monkey with Cymbals
as presented by Mark Roberts

Limited Edition

Our Current Inventory:
14" Tall #51-12696_X205

$124.49

Backside with tails & Tail
---
---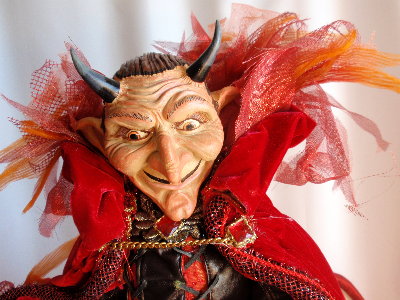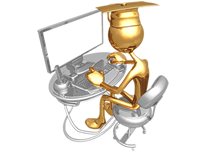 GHOUL GALLERY PRODUCT SEARCH
Ghoulish Gifts & Frightful Decor